By: P.Prabhu
I
ndia takes a giant leap in international space commerce
after ISRO puts 20 satellites in orbit.
Once again, India's great-grand space agency has achieved yet another magical milestone.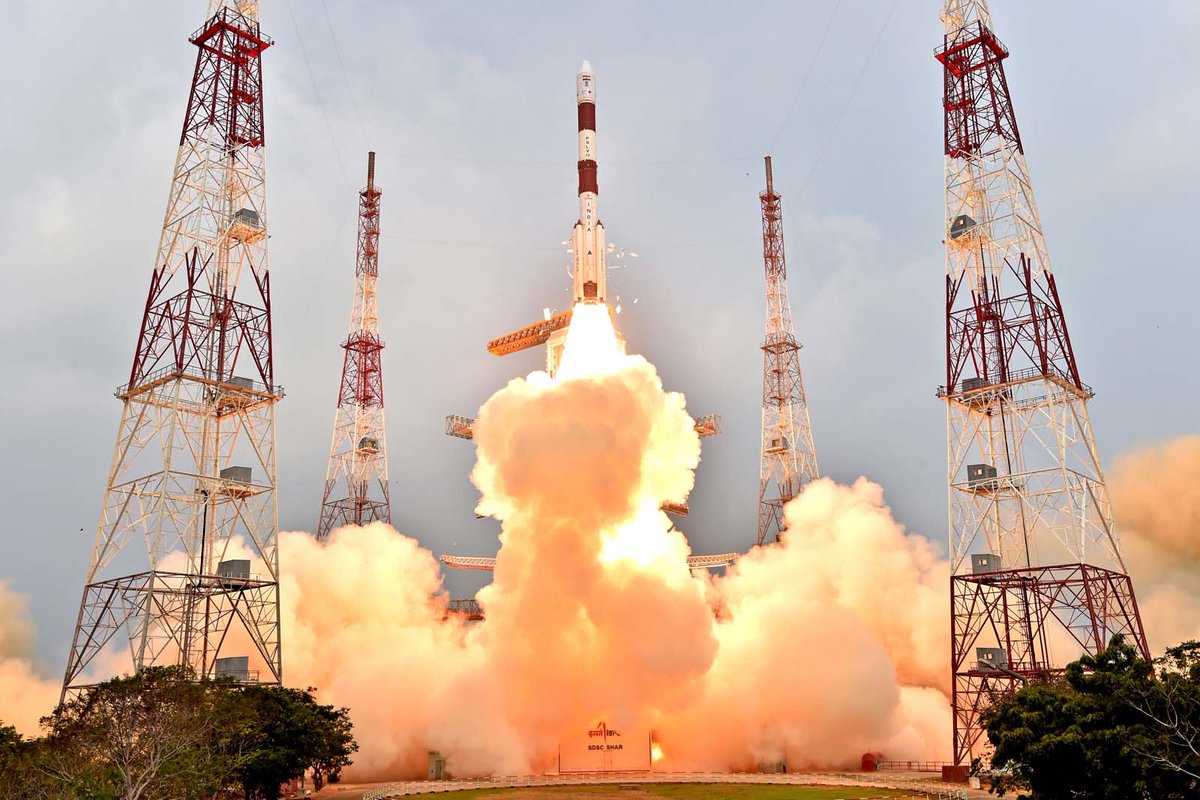 Since Aryabhata -- India's first indigenous satellite launched by a Russian (erstwhile Soviet Union) rocket from their territory of Astrakhan in the year 1975, the Indian Space Research Organisation (ISRO) has come a long, indeed a very long way.
With the successful launch of a record number of 20 satellites at one go by its very own workhorse Polar Satellite Launch Vehicle (PSLV) on June 22, 2016,
ISRO has accomplished yet another "monumental feat." as proudly-stated by India's Prime Minister-
Shri Narendra Modi.
The mission benefited many other countries, including that of the USA, Canada and Germany and thus enabled ISRO to form an unofficial research coalition with other Space agencies.
The year 2016 has turned out to be yet another euphoric year for India's far-reaching space missions.
The back-to-back successes by ISRO, starting with the launch of the fifth regional navigation satellite IRNSS-1E in January followed by the sixth and seventh satellites of the series, IRNSS-1F and IRNSS-1G, in March and April respectively, have put India in an exclusive club of countries capable of orbiting and operating its own sat-nav system, which has aptly been named "Navic".
While basking in the glory of these successes, the space agency has also taken baby steps towards making its own "space shuttle" someday by successfully launching an indigenously-made winged Reusable Launch Vehicle (RLV) in May this year. The development of such a futuristic rocket is aimed at putting satellites into orbit around earth and then re-enter the atmosphere.
And it is pertinent to note here that it was Dr. APJ Abdul Kalam, the iconic missile scientist and greatest visionary of the 21st century who had dreamt of India leading the way in designing a reusable hypersonic rocket.
The technology demonstration test has, in fact, paved the way for many other breakthrough technology missions, including hypersonic flight, autonomous landing, powered cruise flight and hypersonic flight using air-breathing propulsion, according to ISRO.
Flush with the success of the technology demonstration flight of its Reusable Launch Vehicle (RLV- TD) last month,
ISRO is gearing up to test a scramjet engine based on air-breathing propulsion.
The test flight of the indigenously-developed scramjet engine is scheduled to take place from the Satish Dhawan Space Centre at Sriharikota sometime in July.
It is named as : Advanced Technology Vehicle (ATV), the test platform will comprise a scramjet engine hitched to a two-stage sounding rocket (RH- 560). Maintaining combustion in hypersonic conditions poses technical challenges because the fuel has to be ignited within milliseconds.
Space agencies across the world are focusing on the development of scram-jet technology because it contributes to smaller launch vehicles with more payload capacity and promises cheaper access to outer space.
The space agency has also proposed to build a third launch pad at the same spaceport to support increased launch frequency and also to support launching requirements of advanced launch vehicles such as the GSLV. Once the flight tests are successful, the GSLV rocket promises to further boost up ISRO's business prospects by enabling it to orbit heavier satellites of other countries as well.
The space agency at present launches 5-6 satellites every year.
As the space agency's commercial arm-Antrix at present holds around 30 orders from different countries for satellite launches scheduled to be completed in next two to three years, the latest successful launch of 20 satellites has emboldened ISRO to increase its satellite launches to 12-18 per year.
With all these momentous milestones, and yet many more to come by, ISRO has continued to make the Indian flag soar to greater heights in space.